Welcome to the City of West Fork, A
rkansas
West Fork, nestled in the Ozark Mountains, is ten miles south of the University of
Arkansas at Fayetteville, Arkansas, and a half-hour drive to the home offices of Wal-
Mart and Tyson. West Fork is nearby to popular destinations such as the Crystal
Bridges Museum, Beaver Lake, Devil's Den State Park with hiking and biking trails,
and the War Eagle Mill Arts and Crafts Fair.
West Fork was founded in the 1880s on the banks of the West Fork of the White
River. Founded by the timber industry, milling, and railroad commerce, our historic
homes, parks, library, Farmers Market and community events preserve a small town
feel in an area of rapid growth with a diverse and an expanding economy. Our
beautiful Ozark Mountain scenery, mild four seasons, one of the best school
districts in Arkansas, and opportunities for employment, recreation and higher
education, make West Fork "Where the Best Begins".
For more information about the City of West Fork, call City Hall during normal business hours at 479-839-2342.
Mayor's Message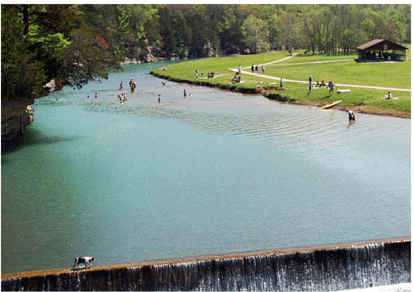 Letter from the Mayor
2017 is off to a blistering pace in West Fork. We have four city construction
projects getting set to begin. Our sewer rehabilitation project is nearing
completion, this is good news for the West Fork Acres subdivision as those
residents will be getting a new street overlay that will also most surely
increase property values. We are expecting an update on the time frame for
beginning our tie in to the Fayetteville sewer system very soon. As I am
sure you are aware we will be getting a new trash service in West Fork. I
would like to explain the process for which this decision was made by the
City council. The city contracts out our trash service in 5 year contracts, our
contract with Trash-A-Way had expired, a new company approached the city
concerning making a bid for our trash service. As your representatives the
Mayor and council were obligated to enter into a bidding process to facilitate
the best service and price for the residents of West Fork. After two City
Council meetings and much debate and input from residents the Council
voted to award our trash contract to Inland Waste on the basis of increased service options and reduced prices to our residents. If you have any
questions concerning the new trash service please contact City Administration @ 839-2342.
In other business concerning the City we have had much talk and news about declining enrollment in the West Fork school system. The growth
of our city is very important to me, and as such I have begun to look at the city growth to see if it is following the same trend as the school
system. I have found that construction is continuing to grow albeit at a conservative pace. We are averaging 8.2 new homes built per year
inside the city limits, and we have full occupancy in the rental properties throughout the city. I am encouraged by the construction that we have
currently taking place throughout the city in the form of new home construction as well as the sold signs I see located in the vacant lots of our
subdivisions. I am also encouraged by strong debate and public input at our Planning Commission and Economic Development meetings. Mr.
Karnes and the schoolboard are working hard to improve enrollment at the school and the city planners are eager to encourage development and
growth in the city to help facilitate increased enrollment numbers. I ask that the residents stay positive and get involved as the City and School
work towards the Future of our community.
Mayor Heith Caudle
It is my sincere hope that you are noticing the growth happening in our city and that like me you are embracing the changes and progress West
Fork is making. Some may not have heard that Dr. Linda Ford has retired and sold her Noah's Ark veterinary practice to Dr. Bridger Smithers, while I
will certainly miss Dr. Ford I hope she gets to enjoy her well-deserved retirement. If you haven't met Dr. Smithers I encourage you to stop in,
introduce yourself, and welcome he and his family to West Fork. As the weather has warmed I am increasingly excited by the buzz surrounding our
four-way stop with the many patrons of the Why Not Café and the Sugar Shack. Both new businesses are welcome additions to the city's dining
choices. The city is also starting to see increased home building taking place. Houses are going up in the Greystone subdivision and the planning
commission just approved three new homes to be built on the hill behind Harp's. In other city business, the West Fork Acres sewer project and
street overlay are beginning their final phases and should be complete very soon. Parks Director Chad Harrison has our parks in quite possibly the
best shape ever and is finalizing the plans for our 4th of July fireworks celebration. I want to give special thanks and you should also to interim
police chief John Nelson for his decisive action with a potential threat that our and other cities recently faced.
In closing I want to mention that we have vacancies on many committees, so I encourage everyone to get involved at some level of our City
Government. I will steal JFK's famous quote "Ask not what your city can do for you, but what you can do for your city."
Mayor,
Heith Caudle